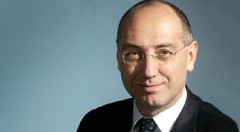 "Thank you, Jim, and welcome, everyone. We are pleased to report a strong fourth quarter and full year results that met the top end of our expectations. Adjusted EBITDA of $449 million in the fourth quarter was up 8% in constant currency, the first quarter of year-over-year growth since the acquisition, and a clear demonstration of the success of our integration efforts.
The $1.704 billion in pro forma adjusted EBITDA for the full year was at the high end of our guidance, and we achieved over $110 million in cash synergy savings during the year, putting us ahead of schedule for our total synergy plan, which we had increased.
Strong profitability and disciplined capital management translated into free cash flow before onetime transaction costs of over $540 million in 2015. As a result, we made very good progress in reducing our debt and leverage during the year, and our financial condition is solid. Our capability to deliver this financial performance is a testimony to the dedication and focus of our teams around the world.
There were other important milestones in 2015. Having completed a transformational acquisition, we combined the world's number one companies in lottery and gaming equipment to create the he global leader in gaming.
Coupling that with the strong position we have in social and interactive, our broad-based coverage of gaming continuum gives us a significant competitive advantage. Geographically, nearly half of our revenues come from North America.
Italy represents one-third, and the balance comes from the rest of the world. That gives us a unique perspective on emerging gaming trends and opportunities, wherever they arise.
From a customer perspective our balance between B2C and B2B capabilities enable us to better leverage our proximity with players in everything we do. And in lottery, but also gaming, we have a significant base of recurring revenues accounting for nearly 85% of the total, with the remainder coming from product sales.
As you would expect, integration has been our top priority since the closing last April. On our first day as new Company, we introduced an organizational structure built around our customers.
Each of our clients works with a single IGT representative, who then leverages our centralized product development, marketing, field services, and manufacturing capabilities to meet their exact needs. Being customer first is in our DNA, and we have worked hard to make it a cornerstone of everything we do.
Regarding our full year performance, our lottery business continued to grow worldwide, supported by our sustained focus on innovation. In North America, same-store revenues grew 7%, even without meaningful jackpot activity in the year.
International same-store revenues rose 4% on solid growth in EMEA, including record sales in the UK, Poland, and the Czech Republic.
In Italy, total lottery wages were stable, as strong growth in Lotto was offset by Scratch & Win. Lotto wages surpassed €7 billion in 2015, the highest level in 10 years. 10eLotto/Numero now represent 60% of Lotto wages, demonstrating that constant product and process innovation is critical to lottery success.
We are also pleased with the positive impact that the new product introductions are having on Scratch & Win, where trends progressively improved during the year. We secured several contract extensions as we bid during the year.
In the US, we had wins or extensions in Minnesota, Wisconsin, and Nebraska. We also won the central system in Massachusetts. Internationally, we capitalized on new opportunities in South Africa, New Zealand, and Portugal.
Over the last 2 weeks, we announced a new 10 year agreement with the North Carolina Lottery and a 4 year extension in Michigan. So 2016 is off to a great start.
We also made important progress with our North America lottery management agreements in 2015. As a new business model, LMAs have require some fine tuning, to be expected.
Accordingly, we are unwinding our LMA in Illinois and have restructured our contracts with New Jersey and Indiana, where our annual targets are now better aligned with the current market performance expectation. It should be noted that the strong performance of the New Jersey and the Indiana lotteries is a tribute to the healthy partnership we have built with these jurisdictions.
Instant tickets were an important driver of growth around the world. It is an area of strategic focus, and we believe that there is considerable room for us to grow our market share as an instant ticket solution provider. We have steadily improved the productivity at our printing operation and stepped up the introduction of our leading game content.
The strength of the lottery business is driven by the experience and the expertise of our teams across many disciplines, including sales and marketing, product development, and technology.
During the year, we launched Aurora, our next-generation lottery technology solution, which provides our customers the flexibility to evolve with market and technological advances.
The power of our technology and capability of our people was recently showcased in the record setting $1.6 billion Powerball jackpot in the US. A review of the statistics will give you a better insight into what we accomplished along with our partner lotteries.
IGT processed approximately 80% of all Powerball jackpot sales. We managed over 1 billion transactions in the final Sunday and Wednesday sales period, and processed over 500,000 tickets per minute at peak level. This was a remarkable feat for all involved, both inside the organization and at our partners.
Turning to gaming, we developed and initiated a comprehensive turnaround program that is built on a closer to market culture. We expect to drive revenues growth and market share gains through disciplined product development supported by an R&D road map that integrates a cabinet platform and content strategies, along with improved customer service.
We are also leveraging an expanded product offering on a much broader, more global scale. We are already seeing early signs that our turnaround strategy is paying off. North America installed base is beginning to stabilize. Internationally, when adjusted for larger conversion by a single customer, gaming operations have been relatively stable.
On the product sales front, we are encouraged by the customer acceptance of our new gaming cabinet, the S3000, and the Crystal Dual. The 11,562 machines shipped in the fourth quarter represented the best performance of the year.
In North America, we ended 2015 with total replacement units up modestly from 2014 level, suggesting steady customer demand. New cabinets also drove international machine sales, especially the S3000 in EMEA and Latin America and the Crystal Dual in Australia.
In the system segment, we achieved important wins during the year, including Wynn Resorts property in Las Vegas, Macau, and Massachusetts, as well as our first casino system in Russia.
System's is a key area of opportunity for us, one where we can apply our lottery expertise with our casino customers. Mobile gaming is a critical area for future growth, and our OnPremise mobile solution is currently being rolled out at MGM 11 properties in Nevada
This is a good example of our capability, both in lottery and gaming to create interactive betting programs that are fully integrated with the a land based system, and operators are responding favorably to the new offer.
We also expanded our interactive operation. Our remote game service platform gained momentum across the region, and the addition of IGT content, such as Wheel of Fortune and MegaJackpots to the probability mobile network has been well received by players.
Finally, we grew revenues in North America social gaming to over $350 million, more than half coming from mobile, as DoubleDown continued to improve player monetization by leveraging IGT's content leadership. It is an area of our business that we believe is primed for continued growth and has significant upside potential.
Our mission is to be the innovation leader in the global gaming industry. We will achieve that by delivering the content, technology, and expertise that drive customer and player demand and define the future of gaming. Our customer first organizational design and our strong financial condition provide a solid platform for us to pursue this goal.
As we look ahead, we have 5 key areas of focus. The first is to grow our global lottery operation, while controlling cost and capital deployment. We expect that growth to come from consistent product innovation, new business opportunities in North America and international and increased market share in instant ticket.
Second, we intend to strengthen our position in gaming, including both machines and systems, as we leverage our turnaround efforts on a global platform. At the heart of this strategy is disciplined R&D investment in game and cabinet development, which is attuned to local market regulation and preferences.
Third, we are expanding our social interactive gaming capability, leveraging on our proven market leading content and also launching new product. We are working on introducing DoubleDown outside of North America, and we are ready to take advantage of the evolving worldwide regulatory landscape for real money interactive gaming.
Fourth, we will protect our market share in Italy across all products and continue to improve operational efficiency. Yesterday was the deadline to submit bids for the Italian lotto concession. As we have communicated, we have bid with a consortium of partners, all of whom we have successful working relationship with already.
The Italian regulator announced that only one proposal was submitted. We are awaiting further details on the process, but we are excited at the opportunity to maintain this historically important business for us.
Finally, at the corporate level, we are committed to growing the revenue and profit of our core operations through achieving our synergy target and through maximizing cash generation to fund CapEx, reduce debt, and remunerate shareholders".
Barry Jonas
"Hi, guys. Thank you for taking my question. I just had a couple around the Lotto consortium. First, why – what was your motivation for partnering in a consortium as opposed to going at it alone this time?"
Marco Sala
"Hi, Barry. Marco, and I reply your question because it is a very spot on question. Look, let me start by saying that Lotto is a very attractive and profitable business, and by the way, it is the historical foundation of Lottomatica. But as a matter of fact, it's a mature product and Italy is a mature market that still accounts for a large portion of our sales and profit.
So at the time of thinking about the bid, we knew that we had to think about the bid strategically, so we decided on a consortium. By doing so, it gives us greater flexibility to invest in global growth opportunities and to further diversify our portfolio geographically, and we did it with partners we know well. I would remind you that this approach is consistent with our strategy in other bid opportunities.
By the way, Scratch & Win in Italy, we run the business being the leader of a consortium. We participate to the privatization in Turkey in a consortium, so we did also for the North American LMAs.
In addition to that, this approach helps us also to keep our commitment to consistent deleveraging. So at the end of the day, it was not a difficult decision as long as you put together all these pieces."
John DeCree
"Good morning, everyone. Thank you for taking my question. And congratulations on the long and fruitful year. Just wanted to follow up on kind of the gaming operations in North America, as well as the unit shipments. Looked like unit shipment as you indicated were relatively flat and installed base stabilizing.
Just wanted to know if you could provide a little bit of color on, you obviously have some new products in the market place that have appeared to be very well received. How much of your kind of success here in the fourth quarter is kind of driven by those products and how much running room do we have ahead for the Crystal Core and the S3000 going into 2016?"
Marco Sala
"Look, let me start by commenting one number. In the last quarter S3000 and Crystal Dual represented 40% of our unit sales, compared to the less than 30% in the full year period. I think it gives you the sense that the contribution of those products has not been minor.
So we rely on – as we have anticipated. I mean, look, the turnaround is a turnaround that takes time. We have anticipated that is a matter of 18, 24 months since when we presented the transaction.
We are working hard on all the components of the mix, starting from content, cabinets and we are releasing new titles and new products quarter-by-quarter. And we will rely on that to achieve the objective that you have mentioned."
John DeCree
"Great. Thank you. Just switch gears quickly to the social gaming business in North America. Obviously DoubleDown has been a great area of growth, each quarter it seems like the average daily yield is increasing and the mobile mix is probably a big part of that?
Should there be any reason we shouldn't expect the mobile penetration to continue to grow and yield will increase with it or are we kind of reaching a plateau on the mobile penetration at this point?"
Marco Sala
"No I think there is still some room to increase penetration, but having said that, we have a solid program on DoubleDown over the next month because we have the objective to enlarge the content, we are delivering on DoubleDown.
We have the objective to launch new verticals in DoubleDown and we have also the objective to let me say to strengthen the position of DoubleDown outside US. Because as we were mentioning in some previous occasions, DoubleDown is very concentrated in US, while we intend to expand this brand outside US more effectively
In addition to that, we can rely also to the recently launched advertising program through DoubleDown that over the next quarter can provide as some additional revenues." lp/AGIMEG